As the Cacerolazo Latinoamericano calls for equality and human rights in the region, one of the Chilean activists who joined in jokes that Colombians 'have more rhythm.'
Some thought the national strike would have come to a stop by the first of December, a date when Colombians famously begin their month-long Christmas holiday celebrations. On the contrary, December 1 brought the Cacerolazo Latinoamericano, a call for discontented citizens in Colombia and all over Latin America to unite in a symphony of pot-banging.
"In Latin America lately, it seems like there's an awakening in terms of what our recent governments are doing. So, through social media, we have agreed to a very symbolic, coordinated protest," said Paola Andrea Peña, a Cacerolazo Latinoamericano participant in Bogotá's Parkway.
The call, which started circulating on social media about a week ahead December 1, was for "real policy for the progress and dignity of all Latin American people."
More stories about the Colombia´s National Strike:
Cacerolazos – reclaim the calles
A journey around the world with the history of the cacerolazo

See all of our coverage on Paro Nacional
The coordinated cacerolazo also sought to protest inequality and the violations of human rights throughout Latin America. Needless to say, this has been catalyzed by protests and unrest here in Colombia, as well as in Chile, Ecuador, Bolivia and Haiti.
Various activist groups, including a collective of various social justice groups in the region, La Confederación Sindical para las Américas, the Syndicated Confederation for the Americas, told El Espectador they'd coordinated the event to express their support for social justice activism in the region.
Latin Americans living outside of the continent also joined in to show solidarity, coming together in Paris, on the Champs de Mars in front of the Eiffel Tower, and in several Australian cities, including Sydney and Melbourne. One of the participants told RCN that the aim was to "accompany, from a distance, the national strike developing in Colombia and in other parts of Latin America."
This wasn't the first time that Colombians abroad participated in the paro nacional. On November 21, people came together in New York City's Time Square and in several other cities around the world to support the strike from afar.
"This is something for the same purpose but [within the context of] the bigger picture," said bogotano Iván Rodríguez when we asked him about the Cacerolazo Latinoamericano. "Because at the end of the day, the same economic issues are coming up throughout the whole region. I think this moment is too special to let it pass by."
At Sunday's Cacerolazo Latinoamericano in Parkway, husband and wife Victor Manuel Alvarado Cárdenas and Esther Nieto de Alvarado expressed their ardent support for the event. "How great that all of these countries are supporting each other and are rising up against their governments that aren't supporting young people," said Nieto de Alvarado.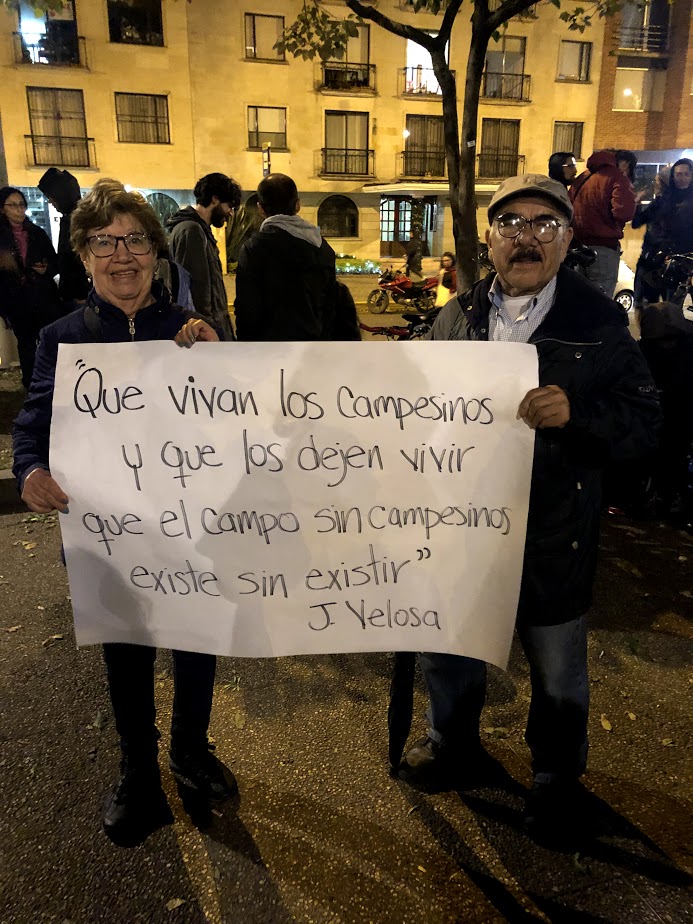 She went on to explain why she supports Colombia's national strike overall, and why she made the effort to show up to Sunday's event. "We are protesting for the students, so that young people can have more opportunity. They are on the streets because they don't have enough opportunity to study. That's why there's so much ignorance and so much unemployment," said Nieto de Alvarado. "It's for our grandchildren!" she added.
In Mexico City, teacher and activist Camilo Rojas participated in the Cacerolazo Latinoamericano with fellow Chileans, Colombians, and Ecuadorians. As a Chilean activist living outside of Chile, Rojas has been helping to organize demonstrations, talks, and cacerolazos since mid-October.
"The Chilean community here has been protesting for so long that we're a bit tired. So it was really nice to see the big contingent of Colombians and to hear their chants and their rhythm," said Rojas. "They have more rhythm than us," he joked.
"Something that was really beautiful about this event is that it was an opportunity for us [as Chileans] to unite with other people from Latin America. I feel that Latin America is very beaten down right now, very hurt. This is a pain known throughout Latin America. Something that I've learned from fighting the Chilean cause here in Mexico is that we all need to be more conscious and learn about the history and politics of the rest of Latin America."