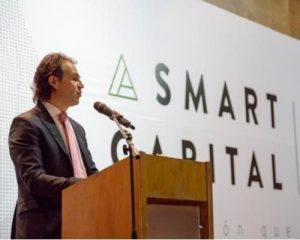 Medellín is no stranger to reinvention – after all, the city has gone from being dubbed as "the most dangerous city on earth" to the "Silicon Valley of South America" in less than three decades.
That evolution is showing no signs of slowing thanks to an ever-expanding startup scene. Entrepreneurship has grown to become an important part of business not only in the city's region of Antioquia, but nationally in Colombia.
Innpulsa, the government organization responsible for boosting extraordinary entrepreneurial growth, conducted a study in 2017 on entrepreneurship in the South American country. It found there are 2,696 startups in Colombia in the first stages of development with a high chance of success, and that they had already generated 7,933 jobs.
More than 600 entrepreneurs, partners, investors and other attendees flocked to the Smart Capital conference in the nation's second-biggest city on Monday to connect  major players of the financing and startup sectors.
Ahead of the #GISTInvestors launch, Ambassador to #Colombia Kevin Whitaker and Medellín Mayor Federico Gutiérrez spoke at the #SmartCapital conference. Ambassador Whitaker gave remarks on how #GISTNetwork supports science & tech #entrepreneurs. #RoadtoGES https://t.co/mGKQg6rJWk pic.twitter.com/lnbpX1QNBF

— GIST Network (@GISTNetwork) November 14, 2017
Medellín Mayor Federico Gutiérrez opened the two-day conference, and said such events continued to foster an important ecosystem of business in the City of Eternal Spring.
"We are a city that has reinvented itself to bring out the best in its people, its talent and articulated work between the public and private sectors and academia, spaces like Smart Capital show our great potential in terms of innovation and economic development," he said.
Colombia ranks as the third largest economy in South America, and in 2013 the Wall Street Journal and Citibank named Medellín the world's most innovative city in the world over cities like New York and Tel Aviv. Some tech trend analysts have even stated that Medellín can become the "Silicon Valley of South America."
US Ambassador to Colombia Kevin Whitaker also spoke at the conference opening, and noted that the Department of State's Global Innovation through Science and Technology (GIST) initiative, which is the U.S. government's flagship science and tech entrepreneurship program, had been working with Colombian innovators since 2014.
Whitaker said Medellín would host the very first GIST Investors training program next week, conducted in partnership with local incubator Ruta N, to work with potential angel or early stage investors to educate them about the opportunities of investing in science and technology startups.
"[This will] bring some of the most recognized angel investor organizations in the world, who will share their expertise," he said.
Smart Capital is a platform that was created by Ruta N and Capitalia to connect major players in investment and entrepreneurship, with support from Innpulsa Colombia, Fundación Fondo de Garantías de Antioquia, Fluzcoin, and the Medellín Chamber of Commerce.
Representatives from several major firms were present at the conference, including Kaszek Ventures/Mercado Libre, TMC Venture Fund, Bancolombia, Fluzcoin Global, SURA, EPM, Kingo, as well as other successful Latin American investors and entrepreneurs.
Ruta N executive director Alejandro Franco said the conference was an opportunity to discuss funding startups and small businesses, as well as accelerated growth and success cases worldwide.
"Smart Capital is the perfect opportunity to chat about the accelerated growth of new companies, dive deep into client acquisition, innovation, high value networking, among other things," she said. "It is also the ideal stage to consolidate and boost ideas that entrepreneurs want to present to their target market.
The Smart Capital conference continues on Tuesday for its second and final day at Plaza Mayor, Medellín.