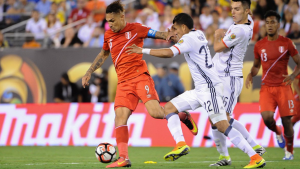 Colombia advanced to the semi finals after winning an exciting penalty shootout after a goalless draw against Peru.
Los Cafeteros
will face the winner of the tie between Mexico and Chile in the semi finals
---
The Copa América 2016 advanced to the knockout rounds this week, starting with the quarter finals. Colombia came up against Peru – two-time Copa América winners – in East Rutherford, New Jersey. Colombia started the game as favourites in most people's eyes, despite the Peruvians shock win over Brazil on Sunday, when they knocked out the eight-time winners at the group stage for the first time in 29 years.
Apart from including Carlos La Roca Sánchez instead of Sebastián Pérez, coach Jose Pekerman reinstated Colombia's first choice players to the starting lineup after the surprise 3-2 loss to Costa Rica at the weekend. Peru started the game with five defenders and a packed midfield, clearly intending to stifle and frustrate Colombia's attacking flair.
But the refreshed Cafeteros had a strong start, dominating the early play. Carlos Bacca nearly finished a fine attacking move at three minutes, but his shot was just wide. Peru offered very little in the way of attacks but continued to frustrate Colombia with a combination of blocks, petit fouls and numerous offside flags.
At the 21 minute mark, James Rodríguez decided to take matters into his own hands with a driving, solo run at the Peru defence and unleashed a shot from 25 yards which hit the inside of the post, and then rolled agonisingly across the goal line and away from danger. Colombia continued to press and probe the Peruvian back line, but ended the first half without any reward, leaving the teams at 0-0. Colombia had six shots on goal, but none on target, which summed up the story of the first half.
The second half continued largely in the same vein, with Colombia trying to attack and Peru defending very deeply to neutralise any threats. But for all their domination, La Selección only had one shot on target to show after 65 minutes.
The frustration really started to show through when defender Cristián Zapata received a yellow card at 66 minutes for a seemingly innocuous challenge. A few moments later Farid Díaz was also booked, giving a free kick to Peru in a very dangerous position. Fortunately for Colombia it came to nothing.
Pékerman waited until the 75th minute to make a change, bringing on 30 year-old striker Dayro Moreno in place of Edwin Cardona. Sebastián Pérez replaced Daniel Torres a few minutes later. Going into the final ten minutes, the game was still goalless. Fayd Diaz suffered an injury and was replaced by Frank Fabra as Colombia's final substitution of the game.
The last minutes were frantic and hectic. Peru managed to force an amazing save from David Ospina after a headed corner. It isn't the first time that Ospina has saved Colombia in this tournament. With the score 0-0 after 90 minutes, the match went to a penalty shootout.
James was the first man to step up and he coolly slotted the ball into the bottom corner. Ruídiaz responded to make it 1-1. Cuadrado was next and his effort was an exact replica of James' spot kick, but Tapia also finished his penalty for Peru, making it 2-2. Next up was Dayro Moreno and he didn't let his country down, placing it right down the middle.
David Ospina continued his heroic role for Colombia as he saved Trauco's penalty, making it 3-2 and giving the advantage to Colombia. Sebastián Pérez consolidated the advantage, making it 4-2 to La Seleccion. Then came joy for Colombia as Cueva skyed his penalty for Peru to seal the deal for Los Cafeteros.
Colombia won 4-2 on penalties and advances to the semi-finals where they will play Chile or Mexico. The joy and relief was clear for all to see, with James left crying with happiness on the pitch.
---
By Daniel Tinsley