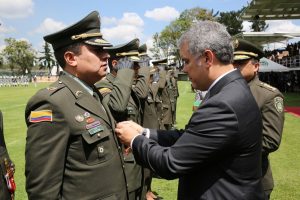 Colombian President Iván Duque has credited new zero-tolerance policies for a supposed reduction in crime within the country. At an event commemorating the 127th anniversary of the Colombian police forces, Duque lauded the "exceptional results" that have occurred over the last three months.
"Everyday crimes have been reduced," the President said, stating that a reduction had occurred to crimes such as theft of cars and motorcycles, as well as burglaries. "And we are also breaking the trend with crimes like homicide, which deserve to be punished in a strict manner."
The stricter measures, entitled "he who does the crime, does the time" (El que hace, la paga), was brought in on August 16 with the intention of cracking down on criminal activities. Organised along three main axes, the new policies included 582 large operations against organized crime, public order and preventative actions, and 734 civic participation activities. The operations were advanced to strictly enforce the laws on everything from petty theft, narcotrafficking and homicides to environmental crimes and cybercrimes.
Duque noted that threats to security stall entrepreneurship in Colombia and that citizens deserve safety in order to continue to lead prosperous businesses.
At this stage no official data has been offered by either the President or the police though constant reports of arrests are frequently tweeted as evidence of the plan's progress. It is also unclear whether a small sample set of three months can be accurate in determining the success of a zero-tolerance policy. In addition to this, crimes had been on the decrease in 2017 from 2016, the only exception to this being robberies of vehicles. In 2017 vehicle theft in Bogotá reached an all-time high.
Zero-tolerance approaches to crime–sometimes grouped together under the term "broken windows" theory– have not been conclusively shown to reduce crime though many believe that it can have a deterring effect on criminal behaviour. The decrease in crimes in New York City in the early 90s under former Mayor Rudy Giuliani  is often advanced as an argument in favour of zero-tolerance measures against crimes.
However, some remain wary that the plan–termed plan del choque in Spanish–may be an overreaching state intrusion that does little to reduce criminal behaviour, noting also that the plan does not adequately cover cases of corruption within the political sphere as Duque has advised against jail terms for public officials caught of corruption.
Other factors like inequality are also likely to be a factor in whether crime can be effectively reduced. In the absence of genuine alternatives, many turn to a life of crime at a young age. In Colombia, children as young as 14 can be tried as an adult and the vast majority come from strata 1 or 2 neighbourhoods.
"You can fill prisons with young people but, as in the United States, it doesn't decrease crime." Opposition leader Gustavo Petro argued earlier this year to Noticias Caracol, making the case for reducing social inequality, rather than jailing youth for petty crimes. "The way out is not in the number of prisoners, the way out is in the social inclusion of youth."
At this stage, it remains unclear whether 2018 will be a year in which crime reduced. Time, and more open reporting on statistics, will give Colombians a better understanding of whether the President's directives have hit their target.