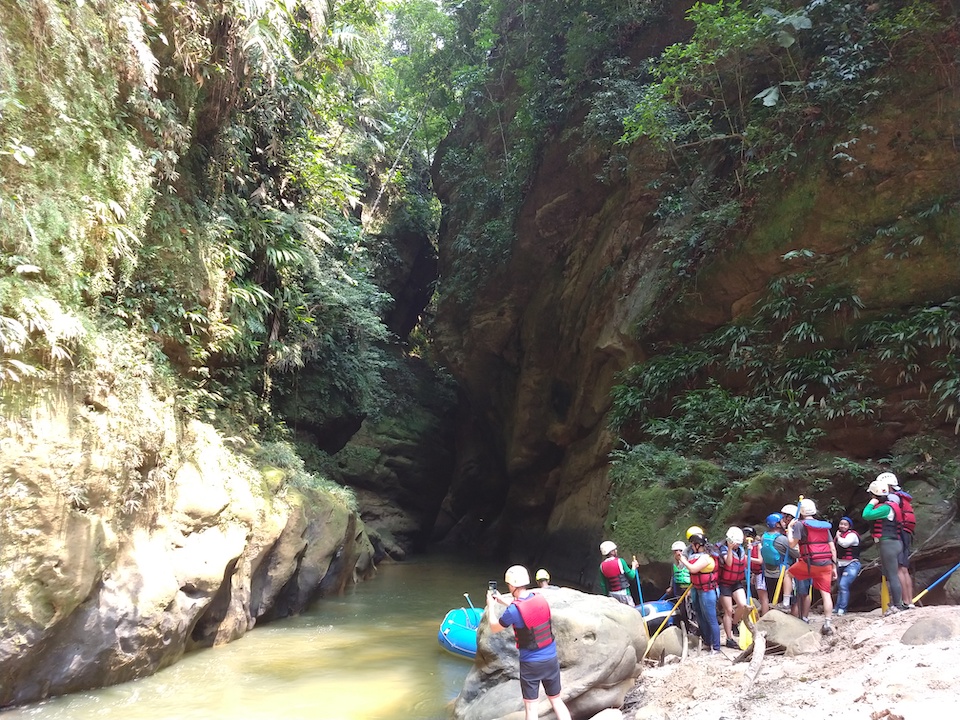 Excombatientes are building a new tourism industry of rafting in Colombia. In the jungle supported by a cast of monkeys, sloths and birds.
---
Our quiet coffee on the edge of the forest is broken by the approach of the FARC. A clutch of wiry men with hard faces walk purposefully towards us. A couple of short years ago, this would have been a reason to start worrying – this used to be one of Colombia's most dangerous zones. We don't need to fear the FARC approaching us today though – they're the ones to guide us downriver!
One of the biggest questions around the peace process is what to do with the excombatientes. The FARC may be a political party now, but plenty of prejudice remains. Indeed, when I first put images up on WhatsApp, the replies from Colombian friends were all negative – que susto, tan malo, terrible being the printable ones. Feelings certainly run high – and the nearest town is controlled by the Centro Democrático. Tourism, then, is a real opportunity to bypass local tensions and bring in much-needed investment from outside. And the tourism delivers, spectacularly.
After a thoroughly professional safety debrief, we set off down the river Pato in small inflatables. Immediately the landscapes are perfect. Sheer cliffs tower on either side of us, offering shade from the fierce tropical sun. Even in this most verdant department of Colombia, nothing can grow on these vertical walls of slate. Metres above, where the gradient levels off, the tropical forest bursts into fifty shades of green. If this were in a Hollywood film, you'd tut at how the CGI had been rendered too perfectly.
The scenery dwarfs our rafts.

A fine view from the camp.

The FARC stay true to their cause even now.
The flora is stealing the show for sure, but the fauna plays a solid supporting act. There's a sloth to be seen wandering around while we sip on that pre-raft coffee, and later a pair of wooly monkeys cavort through the trees above us before brachiating away noisily. For those of you not so impressed by mammals alone, the birds live up to Colombia's reputation as the leading avian nation. We see squawking blue macaws and vivid green parrots, as well as a lonely toucanet perched on a branch as we wind through the backroads to the camp.
Ah, the camp. We hadn't planned on being invited to stay in the ex-FARC camp, but when it was suggested we accepted without missing a beat. Our hotel in the local town of San Vicente had been passable, but this was a definite must-do. The camp was established to hold former combatants after they had disarmed as one of the steps towards peace. Many have stayed in the prefabs that were established, preferring their own company to that of the local communities. There's a dorm hut set up with clean sheets and smartly appointed mosquito nets. Outside, the view across the mountains is jaw-dropping. The river winds through the valley, reminding us of the day's escapades.
Related: Off the beaten track: The plight of the Samaná river
The camp stays true to FARC principles – bathrooms and water access is largely communal and there is a limited running-dog capitalist shop for beer and victuals. It's a convivial and friendly atmosphere. In the morning we head down the ridge to see both the fish-farms being set up for future production and the small Museo Marulanda. I'm sure this will set some people's teeth on edge, but for people with open minds it's an insight into the former operations of an important part of Colombian history. It's wildly one-sided, of course (not a gun to be seen), but no more so than the military museum in central Bogotá. From there, we go on to their graveyard, providing a sombre grounding into the reality of the past as well as the hopes for the future.
Useful Info
Contact: The operation runs out of San Vicente in eastern Caquetá. Get in touch via Caguán Expeditions for more info, including mobile numbers. Lina Calderón is most helpful.
Getting there: From Bogotá, bus or fly to Florencia. From there it's around three hours by well-maintained road. Satena have limited flights direct to the Aeropuerto Eduardo Falla Solano. By car, allow a good 12 hours.
Need to know: There will be a lot of travelling around between locations, so be ready for long trips. Also, it's a young operation, meaning that organisation can be a little haphazard. Mobile reception can be hit-and-miss, so don't expect immediate answers always.
Cost: Variable, depending on itinerary. Again, this may be a little haphazard, but around COP$200,000 per person for a two-day/one-night trip out.