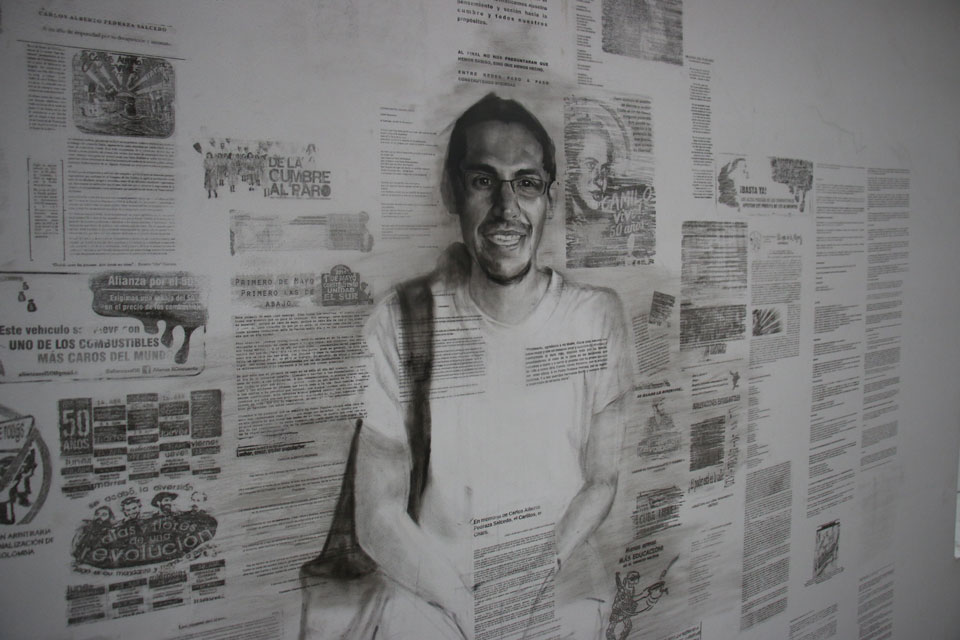 Rostros, Rastros y Trazos, a mural depicting life-sized portraits of nine murdered teachers and activists alongside words that reflect their lives will soon be unveiled in the National Pedagogical University. Christina Noriega talked with Daniel Esquivia Zapata, the artist who created the powerful images.
---
Carlos Pedraza, a 29-year-old community leader and recent graduate of the National Pedagogical University, was found dead 60 kilometres away from his home in Bogotá in January 2015. He had been killed by a gunshot wound to the head.
Pedraza worked for the Congreso de los pueblos – a well known human rights organisation – as a regional coordinator on issues such as the social and economic empowerment of agricultural workers.
To his peers, Pedraza's death was nothing less than a political assassination. Moreover, in his untimely death he joined tens of professors, students and staff leaders of the National Pedagogical University who have been killed because of their ideas and activism over the last few decades.
After the death of Pedraza last year, the National Pedagogical University decided to commemorate the lost lives of nine of its professors and graduates with a seven by ten metre mural located in the Plaza de Memoria, at the heart of the university. The mural is part of a larger project that will include commemorative events and educational programs intended to inform children and adolescents of the victims' lives and work.
"This memorial initiative is a way to dignify victims of the armed conflict by recognising them as political subjects from diverse and vital paths who once formed part of the [National Pedagogical University] as professors, students, graduates or staff" states an official statement from the university.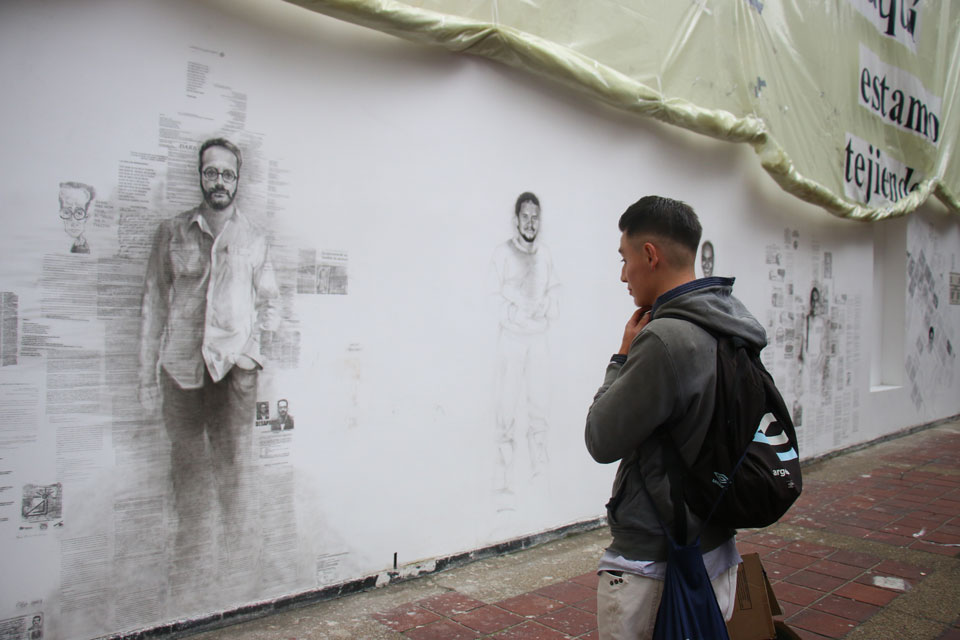 The mural, entitled Rostros, Rastros y Trazos (Faces, Traces and Strokes), features full-body, realistic renditions of the nine victims surrounded by text from their own writings, letters from family members, quotes from their favourite authors or newspaper clippings. The purpose of the text is to provide insight into each person's life and reveal the impact they had on their community and society, explained Daniel Esquivia Zapata, the artist behind the mural.
"I'm trying to show what a life means, trying to etch into the mural what it means to be someone," Esquivia said. "In this sense, look at the nine people, look at the text we can put up about them. This text is part of their ideas, and this is what people thought about them. It could easily fill the whole wall if we wanted it to."
Family members have been heavily involved in the project. Esquivia explained that for each portrait he spent up to six hours with them to determine the right look and material for the mural. Family and friends dug up old photographs, letters and books to select images and words that would best reflect each person's physical appearance, personality and expressions.
In the case of Darío Betancourt Echeverry, a renowned professor and researcher who was killed in 1999, his family selected his university thesis entitled 'Individual Memory, Collective Memory, and Historical Memory' to accompany his portrait.
Pedraza's family covered the lower part of his portrait with his thesis. They placed elements of his social activism work on one side and his literary interests on the other.
"They chose what to include and where to put it," Esquivia said. "I gave them some ideas about visual composition, but it was their choice. It's not a class about visual composition, it's about putting what he means to you in the right place."
The portraits are connected by words emanating from each individual that lead up the wall to form trees surrounded by hummingbirds and butterflies. This "ecosystem", as Esquivia calls it, represents a sphere of thought formed by the interactions of human ideas.
"The idea is to add some butterflies and hummingbirds to create a noosphere," Esquivia tells me. I wonder what exactly that is and the artist explains; "It's an idea from French philosopher Teilhard de Chardin which is that we, humans, create an atmosphere that's built by the objects and all the stuff that we do. The same way that we have a stratosphere, we have an atmosphere that exists and that can be damaged, attacked, killed."
Esquivia states that despite the years that separate each victim, all of them are connected by their contributions to academia and their desire to act on their ideas.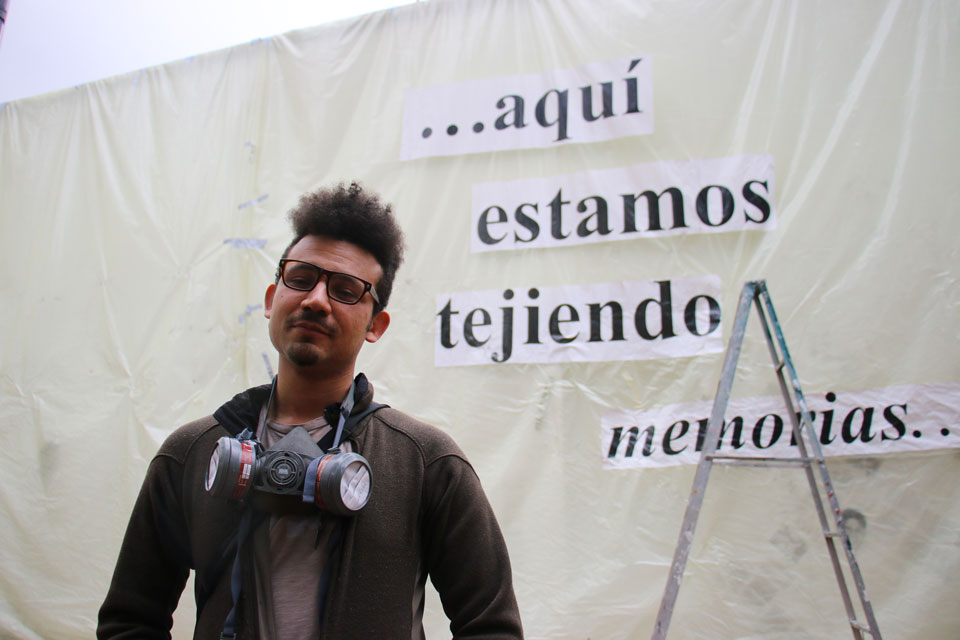 While it may seem surprising that teachers would be targets of violence, according to the Ministry of Education, 605 threats were made against teachers between January 2015 and March 2016. Their roles as intellectuals, dissenters and community leaders puts them in the firing line, in addition to threats from disgruntled parents and students. A teacher's union representative told Semana that many teachers have been threatened by gangs after they tried to crack down on the circulation of drugs in schools.
International monitoring organisations continue to report high levels of death threats and violence against human rights defenders, trade unionists, journalists, indigenous and Afro-Colombian leaders, and other community activists in Colombia.
Cesar Cifuentes Russi, a social sciences student at the National Pedagogical University who hopes to become a teacher, said the mural is important to honour and preserve the work of victims. Cifuentes acknowledged that before seeing the mural he wasn't aware of the death of seven of the nine victims, but he does remember seeing Pedraza, also a social sciences student and teacher, on campus. For Cifuentes, the mural is also a reminder of the hardships and hopes of students pursuing professorship.
"These are the dynamics of this country: if a professor wants to give to others and transform worlds through education, they silence them in this way," Cifuentes said. "But this mural allows us to see the reality and continue with our decision to become teachers."
The finished work is expected to be completed and open for public viewing by December 20.
---
By Christina Noriega