Teusaquillo plays host to SakoAskoFest this weekend in a short-lived pop-up exhibition. We went to the launch to see why there's so much buzz around this young Colombian artist.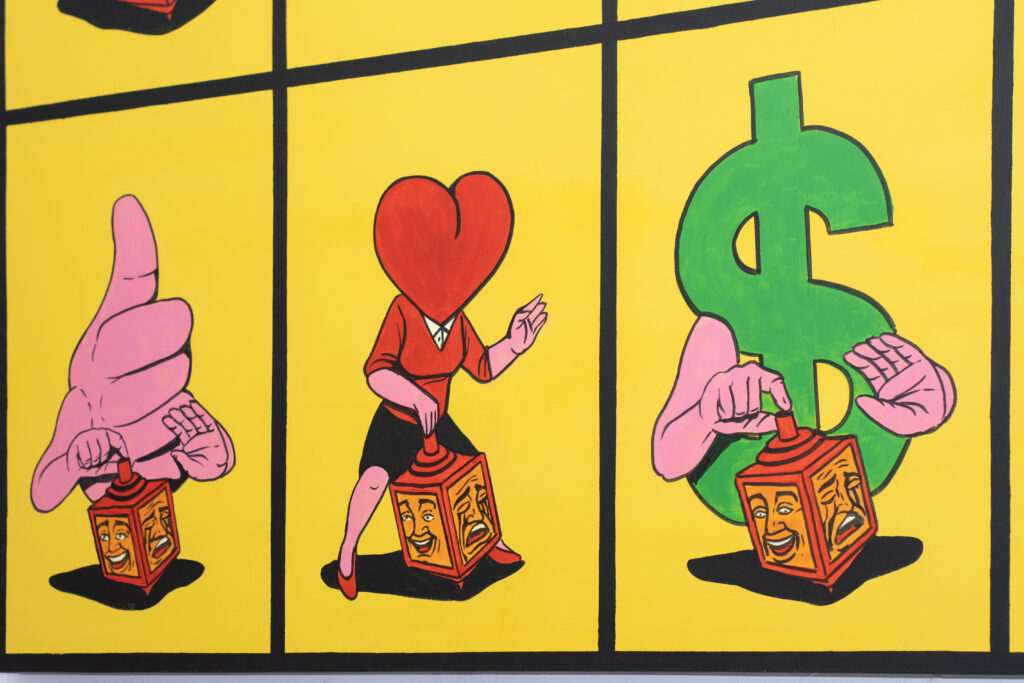 This weekend features a red hot opportunity to catch one of Colombia's best young artists, Sako Asko. That's his nome de arte, but his real name is Santiago Oliveros. He's best-known for brightly coloured yet darkly comic observations on life. He says he wanted to put on a retrospective but "it ended up as a festival, SAKOASKOFEST."
In a quiet corner of Teusaquillo, you'll find the Juicy Juicy exhibition of Sako's work at Casa Celo, a pop-up gallery in a large old Bogotá townhouse. He will be exhibiting again in Colombia later this year, and in Mexico and Europe too, but this is set to be the most intimate and fun of the events, with music and events alongside the art.
We toddled along to the gin-soaked launch party to speak to the artist himself about the exhibition. He's gregarious and funny, with sharply intuitive eyes. We've spoken before, and he enquires after my dogs – his work may be dark, but he has a light soul. He tells me his NY resolutions are "to publish El Viajero and to live with more gratitude."
Sako Asko is better described as a world in which we see Oliveros' view of contemporary society and the pressures we live under. Garishly bright colours saturate hellish images of the worst parts of modern human culture. People sit zombified by the screens in front of them, with disconnection a running theme in his work.
We last spoke to Santiago in February 2020, just a month or so before the chaos of COVID-19 arrived in Colombia and turned everything upside down. He says that "the pandemic showed me that at any moment, without warning, many things can fall down. It gave me a sense of detachment and fluidity from my projects and goals."
Since that point, however, he's gone from strength to strength. It seems the distorted world of the pandemic perfectly fits his dystopian visions. In late 2022 he exhibited and toured in Europe. "In London particularly, I had a great connection with the people who came to the show. I think the English humour is dark and sarcastic, and of course my images have those ingredients too."
Although Oliveros is best known for his bright, bold pop-art cartoons, he's also featuring two other parts of his work: the Huracanes series of oil paintings and his mythology-inspired ink prints. Prints and series start from COP$80,000, although an original oil painting will go well into the millions. Pins and clothes using his images start from COP$30,000.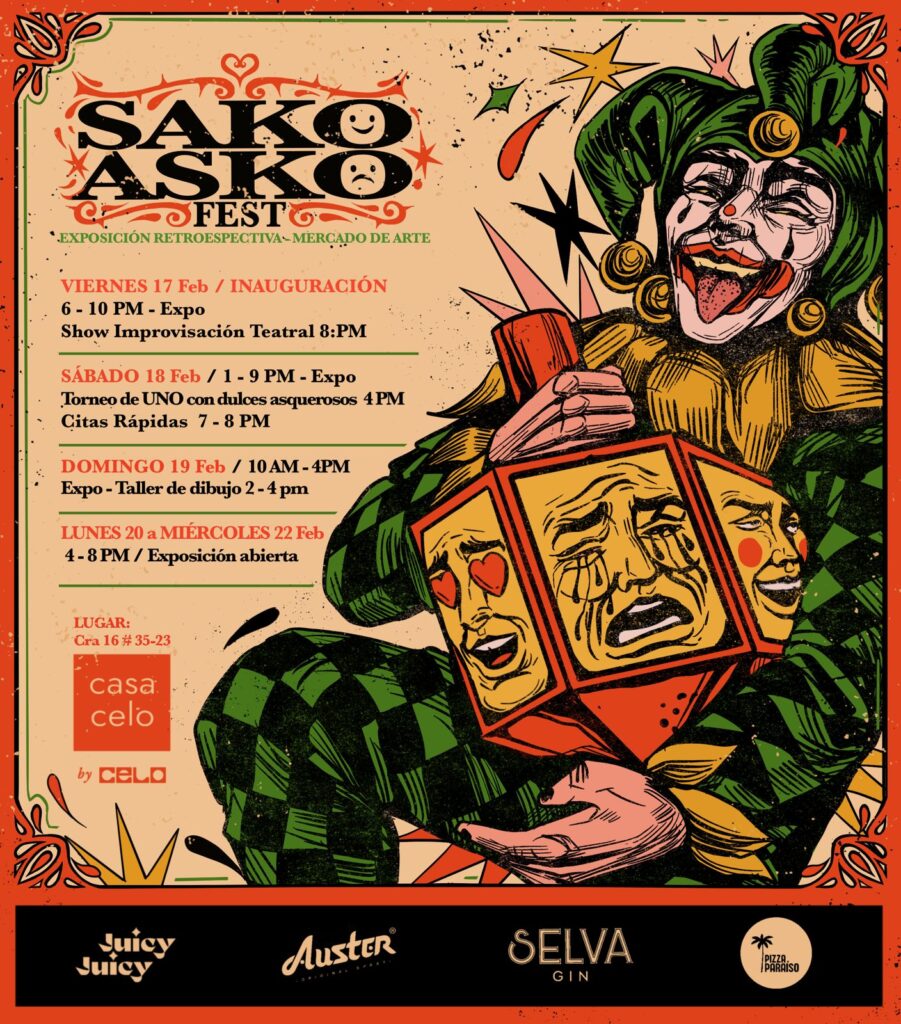 The Huracanes series features landscapes, often involving water and especially rivers. These are mostly in appropriately washed-out colours, evoking a strong sense of melancholy and despair – a drowning figure here and a flayed man there. Curiously, the rivers carry Indian names such as Ganges and Yamuna.
His ink prints, on the other hand, are vivid and stark. Clean lines delineate sharp, precise symbols leaning heavily on Norse-style imagery. There are warriors and wolves, each one a study in solitary pensiveness. Other inspirations seem to have arrived from Hinduism, connecting back to the Indian river names in Huracanes.
The exhibition is open from 6pm today, and from four in the afternoon next week. Saturday and Sunday start at 1pm and 10am respectively. There's a band on for Friday night (9pm), and speed dating on Saturday night (7pm). On Sunday, you can take part in a drawing workshop with Santiago for COP$50,000. Register for that by messaging +57 314 2670375.
Sako Asko Fest runs until Feb 22 at Casa Celo, Carrera 16 #35-23. Free admission.