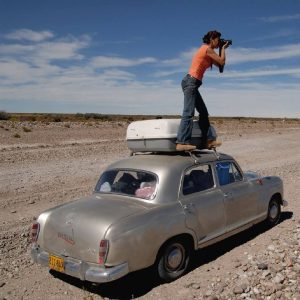 On a sunny afternoon last week, we sat down with traveller and photographer Ana Lucia Perez Tobón at her home in Poblado, to talk to her about her upcoming adventure, why she never feels lonely on the road, and why she always travels with fruit.
Tijuana, Mexico, 2008. Photographer Ana Lucia Perez Tobón, also known as Lucana, eyed up the lines of armed police at the border into California as they surrounded her vintage Mercedes. Memories of previous conversations played through her head, warning her that they'd cut her beloved car into tiny pieces, that she'd never get across the border and, nervously, she settled in for a long wait. A police officer walked up to her.
"Madam, you seem to have many bananas in your car" he noted.
"Yes, I have plenty," she confirmed.
"How come?"
"Well, I'm going to be here all day aren't I?"
"No, no, not at all madam" the police officer replied. "Give me the bananas and you can go."
Sitting opposite Lucana on her top-floor balcony, perched on the hills of Poblado, with spectacular views of Medellín stretching out behind her, you could be forgiven for wondering why she would ever leave this city. But Lucana is an intrepid traveller who made her way from the bottom of Patagonia, through the Americas until she and her beautiful 1961 Mercedes reached Alaska. And now, in less than a week, she's off on her next adventure.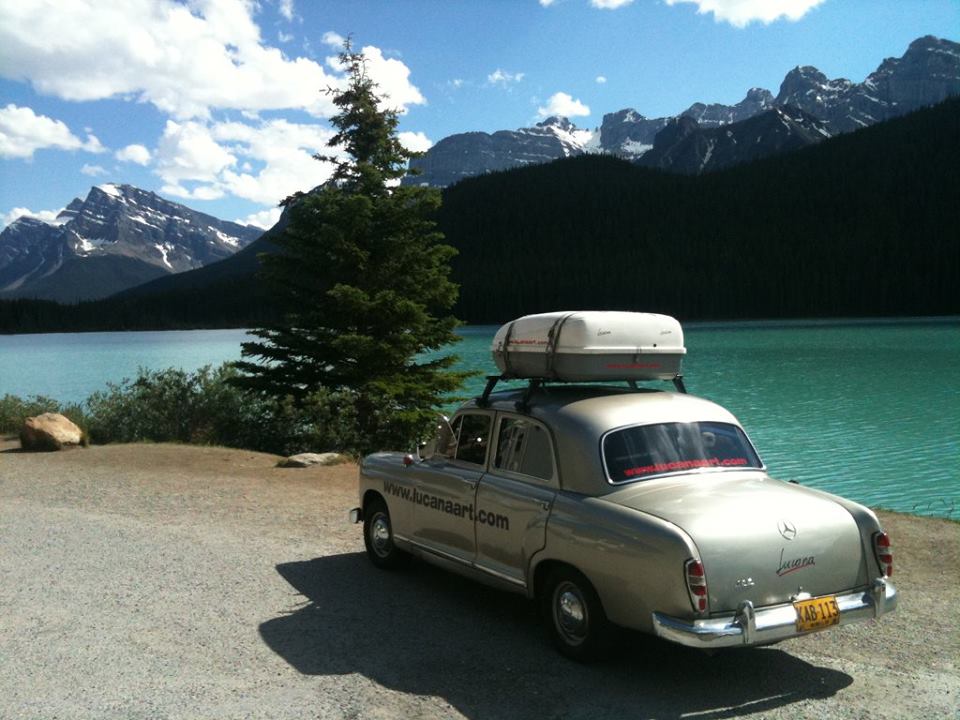 She flies to South Korea, where she picks up her car 'Merce', and then she will hop over to Japan, drive through all of Russia, Finland, Norway and Sweden, before heading south to explore the rest of Europe. It has been 7 years since her last trip, and a lot of that time has been spent meticulously planning this one.
And she's afraid. When she left on her last trip, she started the car full of fear and trepidation, but, as the journey continued, little by little she calmed down and started enjoying herself, and she's certain it'll be the same this time. "We don't overcome our fears, we just get used to them," she said.
Travelling, for her, is a way to disconnect from the hustle and bustle of everyday life, and take the time to just be.  "Travelling through countries is like travelling through oneself…when I'm driving, it's when I am most within myself."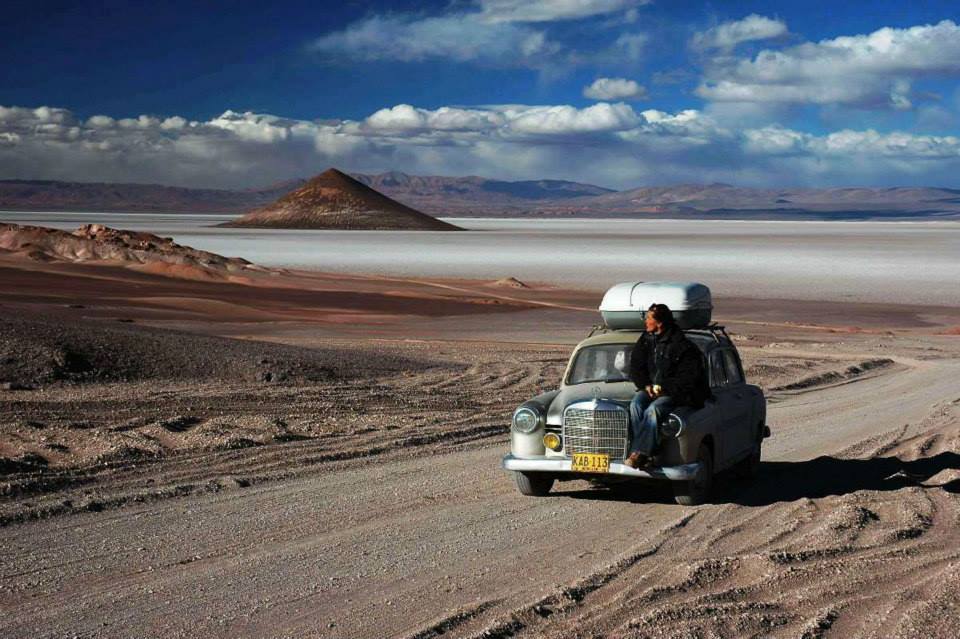 The journey will take over a year, and as a solo traveller, one would have thought she would get lonely from time to time. But, as she sees it, she's not alone. Merce, the affectionate name for her car, is much more than a hunk of metal and rubber. She speaks of her as if she were a person, and admits that for her, she has a soul. She talks to her, sings to her, shouts and cries with her, and calls her 'parcera', or mate.
She bought the car 30 years ago because it was cheap, and after 6 months nearly sold it because it kept breaking down, and mechanics just didn't seem to be able to fix it. Exasperated, she picked up tools and taught herself how to repair the car.  "I didn't know [she had a soul], but with time I realised that she liked it when I fixed her, when I cleaned her. She loves it when I touch her…I look after her."
Over the past 30 years, Lucana has replaced various parts of Merce, and in preparation for this trip, has installed a brand new machine head, giving her a 'new heart'. Before her last trip, she asked Merce not to leave her stranded in the middle of nowhere, and as a testament to their mutual affection, she never did. Although aware that some people might think she's a little crazy, she is unapologetic about her connection with the car. When asked what she would do if Merce broke down, she didn't even entertain the subject, and said it was more likely that it was her who would break down first.
A beautiful, curvy, silver creation, Merce cuts a fine figure on the road, and gets her fair share of attention. When driving her, Lucana turns heads and is asked for autographs. Without Merce, she passes completely unnoticed. In Brazil, a family she was staying with took prints of Merce's wheels, calling it the car's 'autograph'  "Merce is the famous one, not me," she laughs.
This could be contested, as Lucana's professional career has received fame of its own. Her first project Mi Gente (My people) is a photo-documentary of the marginalised people of Medellin, highlighting the chasm between different echelons of society.
"When I was in contact with the people, I didn't eat, because often their stories were really strong; so strong, that they made me feel physically sick," Lucana said. No matter how much everybody talks about living in the moment, in books, articles, instagram stories, nobody ever does, Lucana observed. Except for the protagonists of Mi Gente. The faces in the photos are those of people who have no choice, they are forced to live in the moment. Not because they've got a meditation app, or because they do yoga before work, but because they don't know if they will be alive the following day.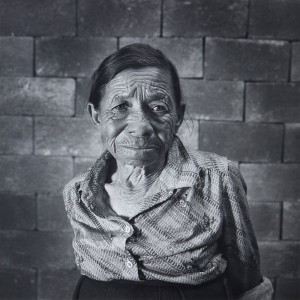 She describes the experience as the best education in the world, because she learnt so much about herself, and it it is this project that reminds her to live in the present. She doesn't sell any of the Mi Gente photos, and attests that she didn't make a penny from the project, but it was worth it.
A native of Medellin, Lucana always returns, because, simply, she loves it. From the vast array of places she has visited, she can say with conviction that there are few places in the world like Medellin.
"I wish the people in Medellin were more grateful to have this climate," Lucana told us, "because this weather doesn't exist in many cities in the world. I'm grateful for the scenery, because it's a paradise here."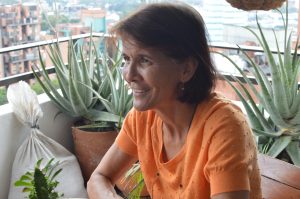 The city hasn't always been so idyllic though, and a traveller from Medellin with a beautiful vintage car is likely to draw attention, but not always of the admiring kind. In south and central America, where 'Colombia' sounds exactly the same as 'Pablo Escobar', Merce was searched from top to bottom, had drug sniffer dogs in the boot, and even went through a huge scanner in Tijuana on a hunt for her stash of illicit fruit.
In contrast, North America didn't give her a second glance when it came to her nationality, but after Netflix churning out multiple series on Colombia's colourful history, this might not be the case any more. Whatever sticky situation she may encounter as a result of this, here's hoping she has enough contraband bananas to get herself out of it.
Lucana and Merce will soon be reunited, and their incredible journey can be followed on Facebook (Lucana y Merce) and Instagram @LucanayMerce.