This year's Cafés de Colombia Expo 2019 is all about developing coffee culture in the capital.
Colombian coffee is experiencing a "generational change and a behavioural shift," says Roberto Vélez, CEO of Federación Nacional de Cafeteros (FNC), the country's national coffee foundation. Speaking at this year's coffee expo, he explained that coffee consumption has simply not been at the forefront of everyday Colombian culture. That is starting to change as Colombians learn more about their own coffee and the country's coffee consumption evolves.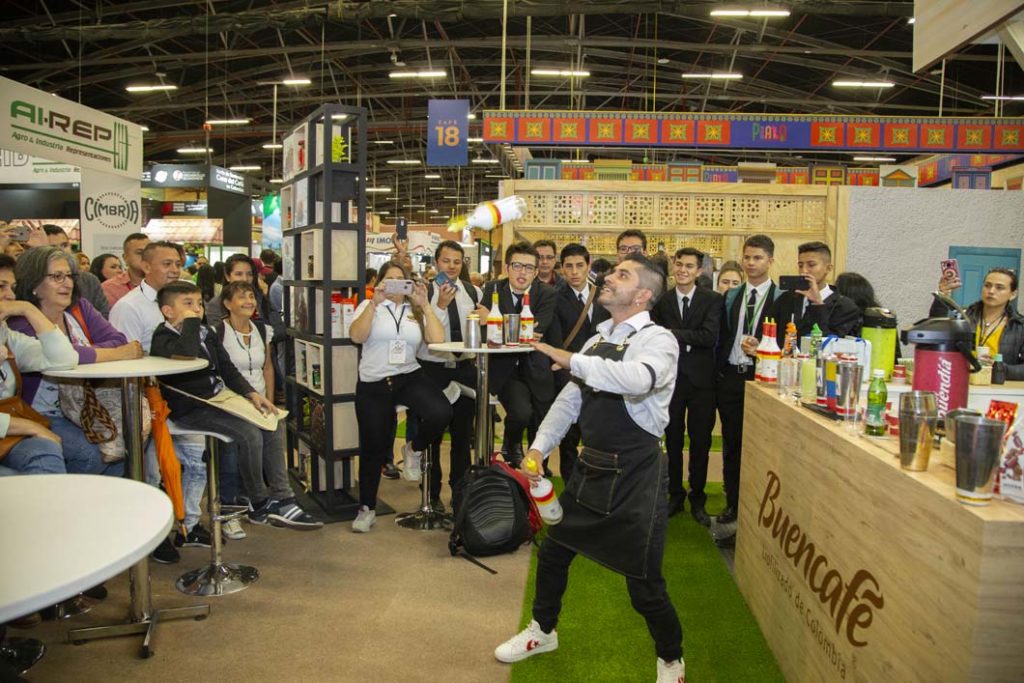 Though Colombian coffee is recognized around the world as one of the country's finest exports, there are still many locals who are unable to recognize the excellence of a local bean. "We need a change in our culture so that the consumer is able to recognize good coffee," said Vélez. "Once you drink good coffee, you can't go back."
Related: Colombian coffee: The new black gold?
Vélez says right now Colombians collectively consume between 2 and 2.2 million sacks of coffee per year (about 2 kilos per capita). In comparison, the Fins – who lead the world in coffee consumption – consume 12 kilos of coffee per capita. This is a substantial gap, especially considering that you can't grow coffee in Finland.
Vélez suggested that educating young people about coffee quality, coffee production, and the coffee industry may lead to a greater shift in the country's outlook on coffee and its importance.
"Not so long ago, what we drank was what was left in Colombia [after exportation]," said Walter Acevedo who took third place the 2018 world coffee-tasting championship.
The coffee roaster and cup taster at Amor Perfecto added, "Now with the introduction of speciality coffees and speciality coffee roasters in Colombia, Colombians have access to the best of the raw material, which would have been impossible before. So now Colombians are starting to go to speciality stores and learn about coffee."
He said, "We are learning about regions, that it's not just about Colombian coffee but about coffee from [individual] departments which have different flavours…[we're also learning] that there is variety and that there are different processes that lead to coffee tasting differently, depending on the region and its process."
Even once your average Colombian starts to recognise quality coffee, the issues of cost and accessibility remain. An average pound of high-quality Colombian coffee sells for COP$15,000 to COP$25,000, making it difficult for many to afford.
"The reality right now is that speciality coffees obviously have a higher price, a price that maybe isn't accessible to all Colombians." Acevedo explained that there's a big move to train Colombians, through things like free workshops where people can take courses and do tastings. "They can learn to make a good cup of coffee at home," he said.
It's not only the FNC and certain quality coffee brands that have made it their mission to spread the gospel of speciality coffee. Karen Attman, popularly known as "the coffee lady," has devoted herself to coffee connoisseurship and education, for locals and tourists alike. Attman is founder and director of Flavors of Bogotá, a food website and company best known for hosting speciality coffee experiences and tours.
"A lot of people talk about how there's not the coffee culture that they expect here in Colombia, but when people talk about coffee culture, I actually think they are thinking in a really narrow term… of how we think of coffee culture in a non-coffee producing country," said Attman when asked about the state of coffee consumption in Colombia.
"In the United States, when you think of coffee culture, well it's in the coffee shop, because where else would it be? But here in Colombia, yeah, there's a huge coffee culture, there's not a huge coffee shop culture. So you have to have a switch in your mentality. There's way more coffee culture here," Attman said. "It influences directly about 550,000 coffee growers here in Colombia, plus all of their family members. So we're talking about millions of people that live from coffee, that's true coffee culture, not going and sitting in a hip coffee shop in New York or Boston," she added.
Colombian coffee culture and all of its wares were on full display last week at the Cafés de Colombia Expo 2019, where more than 100 participants filled the exposition floor's 6,000 square metres with beans, brews, and products. The intoxicating aroma of a fresh cup of coffee seemed to fill the entirety of Corferias convention centre during the annual four-day event, which is the largest and most important speciality coffee fair in Latin America and the Caribbean. The event attracts everyone from coffee producers to distributors, baristas, exporters, and an ever-more interested coffee-loving public.
In addition to the commercial fair, the expo also featured a rich program of educational talks and conferences, as well as the traditional and popular coffee championships, including the 14th annual Colombian Barista Championship, the fourth annual Colombian Coffee Tasting Championship, and finally, the first annual Colombian Coffee Roaster competition.
"I have no doubt that the only thing that can save coffee culture in Colombia is quality coffee," said Vélez when asked about the downturn in Colombian coffee production. Though Colombia may have a hard time competing with coffee-producing giants like Brazil and Vietnam, Vélez expressed his sincere belief that Colombian coffee will triumph through speciality, quality coffee, which he termed "the silent revolution of high-quality coffee in Colombia."
"We're going to own the niche market of high-quality coffee. That belongs to us," Vélez said.