Back in June, Juan Sebastián Cabal and Robert Farah could hardly have dreamt that three months later they would have two men's doubles grand slam trophies in their trophy cabinet.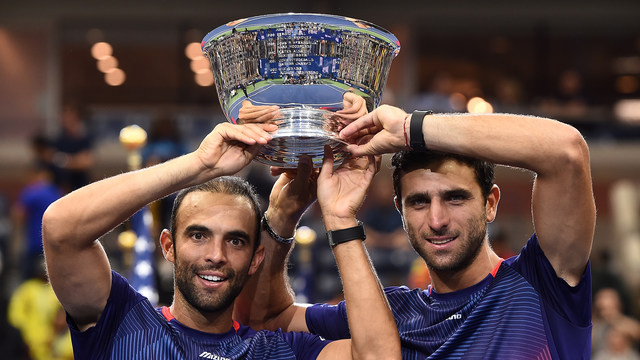 Juan Sebastián Cabal, 33, and Robert Farah, 32, have travelled a long and bumpy road to win their first grand slam title together. Despite the setbacks, the caleños will finish 2019 with two trophies after winning both Wimbledon and the US Open. 
Cabal and Farah's history together goes back to the early 90s when they first started playing against each other in local tournaments in Valle de Cauca, where they stood out even at a young age. After playing their first tournament together aged 11 and 12, more than 20 years later, the duo completed one of their big dreams: winning Grand Slam titles.
Farah, son of Lebanese immigrants, has tennis in his genes. His dad was a tennis coach in Lebanon and after he and his wife fled the civil war in his country, he continued to teach in Cali, with his son as his most important student. 
Cabal grew up right next to a tennis club in Cali and his parents signed him up to play at the club a couple of blocks from his house to help him use some of his excessive energy
At a young age, they became part of the Colsanitas program, which sponsors Colombian tennis players before they became professionals. Fellow tennis players of their generation such as Alejandro Falla, Santiago Giraldo, Fabiola Zuluaga and later Mariana Duque also joined. The program turned out to be a success. After years of ups and downs, Colsanitas is still the main sponsor for almost all top Colombian tennis players.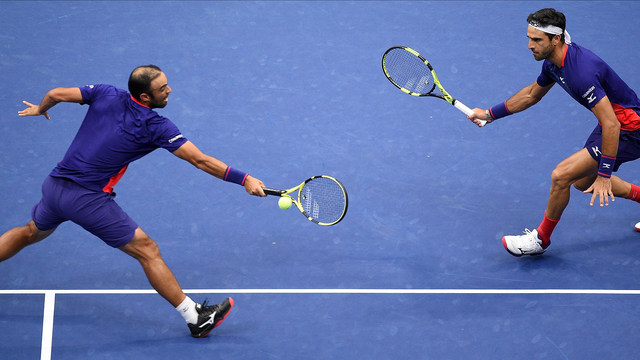 There was a period in their late teenage years when the pair couldn't play together. After winning the Wimbledon title, Cabal got emotional about this stage of his life. "Fifteen years ago they told me I probably couldn't play tennis again because of a knee injury, but the medical team got me back up again, and now we are here." 
Fifteen years ago was May of 2005. During a match in a Mexico tournament, Cabal made a wrong move and felt his knee click. A complicated ACL and patella injury almost ended his career. It took him two years to be able to compete again. Even today his knee movement is not 100% back. 
Farah left the country for a while because he received a scholarship at the University of Southern California. In an interview with Bocas in 2017 he says: "I felt I was getting stuck with my development, so I went to the States. First I partied like never before, as I had always been training and then I grew up. Tennis made me grow up. I became the champion of the NCAA university championship and we became the best university in the US in tennis — a very important feat in the US." 

"After I scored the final point, I was afraid for a few seconds that the umpire would say something, would make a call, but when that didn't happen I just laughed. I couldn't stop laughing."

Robert Farah after the Wimbledon victory
His good results made Farah return professional tennis, playing singles and teaming up with Cabal for doubles, who had recovered and was back in the ATP circuit too. In 2010 both players cracked the top 200 rankings in singles. Meanwhile in doubles, they started winning titles at the Challenger level of competition, a tier below the important tournaments. Quickly, they reached the top 30 in world rankings. 
In 2011, when Farah was injured, Cabal entered the French Open, officially known as Roland Garros, with Eduardo Schwank from Argentina. They made it all the way to the final, beating the Bryan brothers (Bob and Mike), who were almost unbeatable at the time. It was an eye-opener for Cabal and at the end of that year, Cabal and Farah decided to focus completely on doubles and dropped the singles tournaments. 
Cabal said: "We noticed that our singles ranking wasn't as good as our ranking in doubles, [in doubles they automatically qualified for the best tournaments, but in singles their ranking wasn't high enough to be able to play those tournaments.] The problems I still had with my knee were easier to control in doubles than in singles and Robert had something similar happening with a wrist injury. We talked about it and I think we made a great choice."
Their first ATP tournament title together came in 2014 when they won the ATP 500 in Rio de Janeiro on a clay court. For years that had been the Colombians' favourite surface. On a Grand Slam level, it was Cabal who struck first. In mixed doubles, a competition that is held only in the Grand Slam tournaments and the Olympic Games, Juan Sebastián Cabal teamed up with Abigail Spears from the US at the 2017 Australian Open — a decision that led them to the title. 
Related: Cabal wins Australian Open mixed doubles
"I hope this is the first Grand Slam for many for us," Cabal said at the 2017 press conference. "Robert reached the Wimbledon final in mixed doubles last season, so I am confident Robert and I can get that Grand Slam that we are searching for with each other. The most difficult one is the first one, so I believe it will be the first of many." 
Cabal was not wrong. Surprisingly, their first title arrived while playing on the holy grass of the All England Club, a surface they hadn't done well on before. "When we lost in the first round of Queens [the first grass tournament of the season], we decided to sign up for Eastbourne [International] to try out some new things. We reached such a high level there that we started to believe we had a chance to do well at Wimbledon, but I never expected us to win it." 
Related: Cabal and Farah win Wimbledon doubles crown
It was an unforgettable experience for the caleños to hold the trophy after a nail-biting, almost five-hour-long five-setter against Nicolás Mahut and Édouard Roger-Vasselin from France. Farah said: "After I scored the final point, I was afraid for a few seconds that the umpire would say something, would make a call, but when that didn't happen I just laughed. I couldn't stop laughing." 
In the next Grand Slam, less than two months later, the Colombians moved quickly through the US Open, only losing one set en route to their second Grand Slam title. Still, it was an emotional week for Cabal and Farah as Roberto Cocheteux, the founding father of the Colsanitas tennis program they had participated in during their entire career, died in August. In an interview with the ATP after their victory, Farah said, "Sebas, we won our second Grand Slam!"
Related: Second grand slam trophy for Cabal and Farah
Cabal and Farah claimed the top position in the ATP Doubles Ranking and with two Grand Slam titles in their pocket, they will likely hold on to it at least until next year. Their biggest goal for the next season is to win a medal at the 2020 Olympic Games in Tokyo. "Our goals stay the same: Win as much as possible at the tournaments we compete in, but a dream would be to win an Olympic medal for Colombia," Farah said.  
María Camila Osorio takes Junior's US Open title
The doubles was not the only US Open title won by Colombia: 17-year-old María Camila Osorio took the girls' singles title with a cracking 6-1, 6-0 victory in the final over local girl Alexandra Yepifanova. It was Osorio's, and in fact, Colombia's first grand slam singles title in history. 
For Osorio, who is leading the junior world ranking after her victory, it is her last season at the junior tier. The cucuteña already reached the quarterfinals of the WTA tournament in Bogotá this year and won several senior tournaments at a lower level before the start of the US Open.