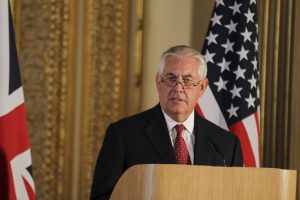 US Secretary of State Rex Tillerson is due to visit Colombia this week.
Tillerson will first visit Lima, Peru before he heads to Colombia tomorrow. He said last week that, in order to establish peace in the country, reducing cocaine production was a must.
The Secretary of State, who has been travelling through several Latin American countries since February 1, will meet with President Juan Manuel Santos and he is due to discuss bilateral relations between the two countries, which have traditionally had good connections.
Last week, President Trump said at a meeting in Virginia that he would cut aid to countries that were "pouring drugs" into the States. He didn't mention specifically the countries he was speaking about at the meeting.
At a weekend news conference in Buenos Aires, a senior state department official said the comments were not helpful, reported Reuters.
Previously, Trump threatened to blacklist Colombia – along with Bolivia and Venezuela – due to the recent surge in cocaine production.
The meeting between Santos and Tillerson will canvass the status of the peace agreement signed with FARC last year.
Colombia's ambassador to Washington, Camilo Reyes, said ahead of the visit "as we continue to build a stable and lasting peace, we are grateful for the long-standing bilateral partnership and the bipartisan support of the United States". Reyes went on to say "now that it is a nation at peace, Colombia is better positioned to work hand in hand with the United States and achieve even more for the people of our two countries and for the region"
After Colombia, Tillerson will head to Jamaica, a country which is also suffering from drug violence.
Colombia received $10 billion from the States between 2000 and 2015 for military and social programs through Plan Colombia – an initiative aimed at combating drug cartels and left-wing insurgents.