WeTrade emphasized how more inclusive business practices could help firms expand their customer base.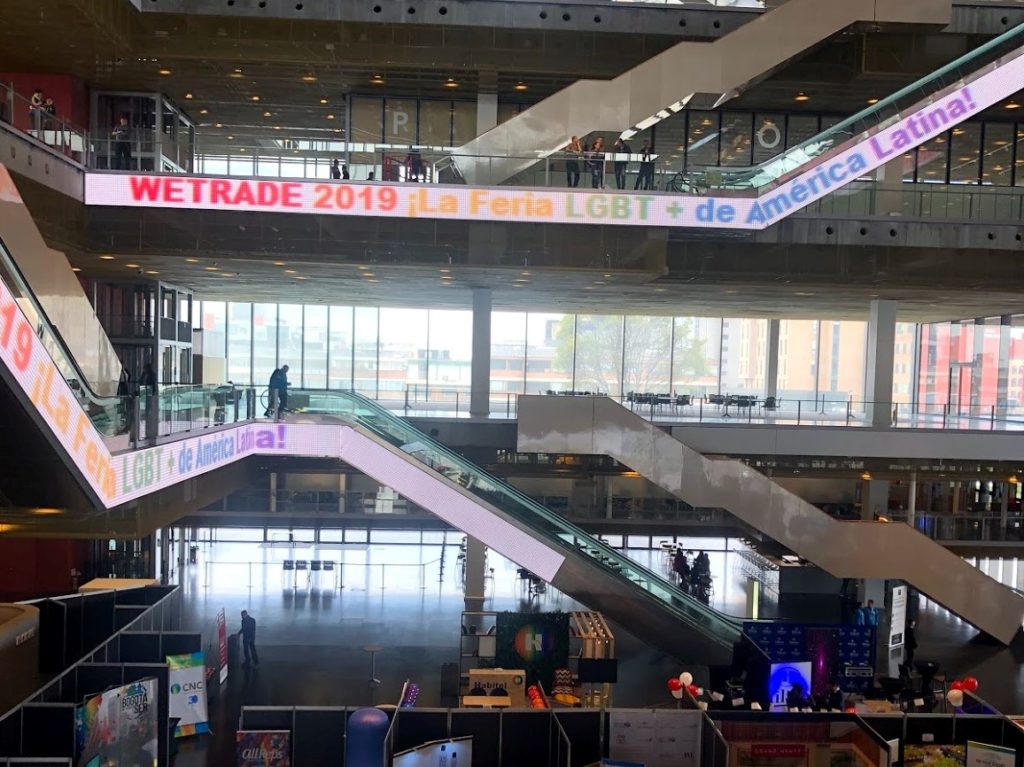 Building a more just society takes more than political and social activism; it also involves encouraging businesses to see the economic potential of the LGBT community. That was one of the key takeaways from the fifth annual WeTrade Fair hosted by the Colombian LGBT Chamber of Commerce (CCLGBTCO).
Ágora Bogotá was aglow with all things rainbow at the fair, which set out to show the immense growth potential that a more inclusive economy could generate. Among those attending was Mauricio Toro, the first openly-gay Congressman in Colombia, who spoke to The Bogotá Post about the importance of LGBT+ inclusion in the business world.
"We want to be able to spread the message that diverse business communities contribute a lot to individual businesses."

Mauricio Toro
"A lot of people think that our work only involves activism for recognition and rights, but no, we are also citizens like any other Colombian," Toro said. "So this [conference] allows us to tell brands that we are a community that is insisting on diversity and in a diversity of production and competition."
"We want to be able to spread the message that diverse business communities contribute a lot to individual businesses," Toro continued. "This [includes] increasing profits and creating a productive environment."
CCLGBTCO,a private non-profit organization, aims to support businesses in strengthening their internal and external LGBT diversity and inclusion programs. The WeTrade Fair, which billed itself as "the LGBT+ Fair in Latin America," hosted over 20 large businesses that either specifically cater to an LGBT+ population or that are looking to expand their customer base to a more diverse audience.
Colombia ranked send best LGTB travel destination
The two-day event, with the aim to highlight the benefits of inclusive, diverse business practices, included educational presentations, workshops, a business fair, and opportunities for networking.
One such panel, which featured six presidents from different LGBT chambers of commerce around the Americas, highlighted the strengths of each country's LGBT tourism programme. According to the Spartacus Gay Travel Index, Uruguayan capital Montevideo was celebrated this year's top Latin American toursim destinations for the LGTB community. And Colombia ranks second.
While CCLGBTCO gave several "Friendly Biz" certifications to celebrate the advancements that certain companies have made towards becoming more inclusive to their customers and audiences, it gave its first ever "Friendly Biz" certification for internal administration, including recruitment, selection, and workplace policies. IBM Colombia was presented with the certificate and applauded for its commitment to diversity and inclusion.
Eduardo Ramos, Director of CCLGBTCO said that the organization's goal is to create a world in which eventually, all "companies know how to treat the LGBT community as well as their front-facing customers and know how to promote their products and their companies to an LGBT community."
"The big challenge is reaching other regions," said Ramos. "Because it's one thing to be LGBT in Bogotá and Medellín but it is another story to be LGBT in the Coast or in Yopal or in Villavicencio. So we want to create inclusive strategies throughout the country […] This is a goal of ours."