Our series on local bands at Festival Estéreo Picnic 2023 continues with Ha$loPablito, a hip-hop project that thinks global and acts local.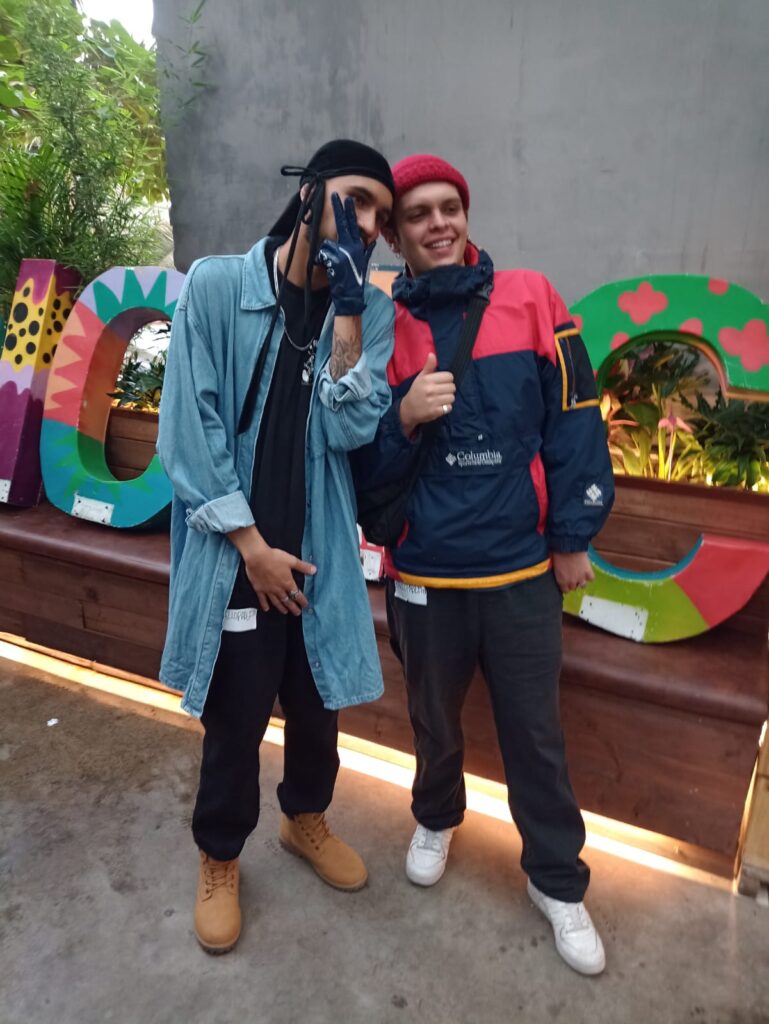 The eponymous Pablo Jaramillo of Ha$lopablito took time out to speak to us about his upcoming performance at Festival Estéreo Picnic 2023. He's young and clearly lapping up the atmosphere and the free drinks at the press event. At just 24, he's already been around for a while, telling us that he "started five years ago, something like that. It started as trap music, evolved into rap and now it has other genres and different kinds of sounds."
His debut album El Puto Sueño was released in 2019, but he hit something of a career break when the pandemic kicked in, spending almost two years away from making music. Now, he's back and firing on all cylinders. His hip-hop is slow and chilled – cold like the city and with a tightly coiled energy always threatening to burst out, like a cat waiting to pounce. With Back to lo Básico released last year, he's plenty ready to fill the stage.
While Jaramillo's the big name, he doesn't work alone, and he's here with collaborator and producer Sergio Murillo AKA Hi-Kymon, who describes the project as "regular people making music for regular people." Pablo says his main influence is Aerophon Crew, a rap and graffiti collective, as well as the ubiquitous La Etnnia. Last year, he popped up on the main stage to collaborate with Piel Camaleon.
Hip-hop in Colombia in general has exploded in recent years, with a show in the national museum confirming its path to mainstream acceptance. Interesting times then, and Pablo says that "It's evolving, it's very open to exploration". Sergio agrees, "we're making an industry. There's not really an industry for rap in Colombia, so right now everyone is gathering."
But hip hop in Bogotá stands aside from the rest of the country, as Pablo explains: "The main characteristic of the project are the lyrics that talk about Bogotá, how it is to live in Bogotá. The distinct experiences of living here, being clase media, without money and with debts, also with dreams of leaving the country." Nowhere is this better seen than in student favourite Merchopercho, a dream of a kid looking to the future with wide eyes.
Sergio says "the cold of the city makes the lyrics cold too. They're raw, they talk about the streets, about graffiti, about hip-hop. Go to Medellín and there's another hip-hop there – different topics, different lyrics." Pablo chimes in as well about the paisa sound, "Medellín is kind of gentrified. It has influence of reggaeton too, and it's easy to relate to. Sometimes the hip hop of Bogotá is so bogotano that only people who have lived in Bogotá can relate."
That's a fair call – how many people outside la nevera are going to be 'Trappin' en el D1' or shopping in rolo working class classic ONLY? We all know about vino chileno from Dos Cabras, and what it signifies, but it's an unapologetically local reference – something that solidifies their cred as a voice of the city.
Although he champions the local experience, Pablo talks about his love of overseas scenes too: "I love UK grime, since a long time ago. It's similar to Bogotá, that grime is very British. If I jumped on a grime track, it wouldn't feel right, you know? It's unique, it has its own essence."
There's plenty of love for foreign artists on the Festival Estéreo Picnic 2023 line-up, the Wu-Tang and Drake's older stuff especially. Pablo says he wants to see "all of them! Local support, right?" when asked about Colombian artists, but especially DawerXDamper. "Those guys rock that shit, so I want to see that" exclaims Sergio. Lalo Cortés and Felipe Orjuela also get a shout-out. Pablo's favourite of his own tracks? TM Everywhere.
Give loads of local love to Ha$loPablito on Thursday March 23 at 6.30pm on the Flamin' Hot stage.