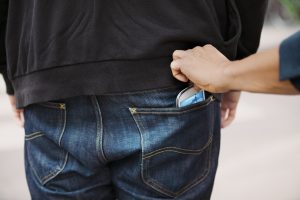 This year more than 2,137 reports were filed over stolen cellphones in Cali. This amounts to nearly 24 phone thefts a day, a 22% rise over 2017 during the same period. The statistics, which were collected by Cali Como Vamos–a program that seeks to monitor and measure certain parameters that determine quality of life in Cali–describe the extent to which cellphone theft has affected the city as a result of criminal gangs operating in many of the city's central barrios.
According to a report by the Fiscalia (Public prosecutor's Office) of Cali, the most common form of theft is with the use of a firearm, followed by pickpocketing, which is referred to as cosquilleo or "tickling" in Cali. The majority of these latter thefts occur at MIO stations, Cali's equivalent of the Transmilenio.
Areas like San Pedro, Córdoba City, Versailles, San Fernando, San Bosco, El Lido, San Nicolás, San Vicente, Pance and El Ingenio were all neighbourhoods most affected by the spate of cellphone thefts according to Cali Como Vamos. Gangs have concentrated much of their efforts on the block which is fenced off by Calles 15 and 13, and Carreras 3 and 5.
In addition to this, MIO stations are also a frequent target of the criminal gangs. The stations of Universidades, Pampalinda, Unidad Deportiva, Lido, Tequendama, Estadio, Manzana del Saber, San Pascual, San Bosco, La Ermita, San Pedro y Torre de Cali have all seen a rise in cellphone thefts of late.
Police have attempted to improve the security of these spaces by way of an initiative called Plan Fortaleza, whereby an increased police force were patrolling more vulnerable areas of the city and resulted in over 1,279 arrests and over 316 million pesos in stolen goods were recovered. There are now five gangs that have become the focus of the Cali police's attention. The gangs vary in their sophistication but their structures include pickpockets or armed robbers as well as those that can reprogram the phones for reuse and, finally, onsellers who bring the stolen phones into the market.
El Pais, the major newspaper in Cali, also reported on the possibility of the goods being sold to Ecuadorean citizens before being transported to Chile or Argentina.
Speaking to El Pais, Deputy Secretary of Security Pablo Uribe said that fighting the scourge of cellphone theft in Cali will be a priority: "Firstly, Colombian legislation is very lenient with the thieves because the police capture these criminals and, a few days later, they're let go. In addition to this, for a long time there has been an institutional lack of budget and technology for this, the criminals know it, and for that reason they exploit these shortfalls to their advantage."
Authorities always advise going to authorised dealers rather than looking for the cheaper options available in unauthorised outlets. To see if your phone had previously been stolen you can type in the 15 digits of IMEI serial number at www.imeicolombia.com.co to find out whether it was stolen or not. If your phone isn't from Colombia you can also have the IMEI registered on the website of your cellphone service provider.