An operetta based on scientific wunderkind Alexander von Humboldt comes to the Bogotá stage.
---
What a year of anniversaries 2019 is turning out to be: 30 years since the fall of the Berlin Wall, 40 years since the Sony Walkman, 50 years since the moonwalk, 200 years of Colombian independence. And don't forget the 250th anniversary of the birth of Alexander von Humboldt.
As part of the Humboldt celebrations, a musical exploration of the life of the pioneering German explorer is being performed in Colombia's capital in August, the Fundación Orquesta Sinfónica de Bogotá (FOSBO) announced last week.
The home-grown operetta, El Bosque sobre el Bosque, Las Sombras de Humboldt, will bring 59 musicians, singers and actors to the stage to delve into the life of Humboldt, an energetic geographer, naturalist, artist and adventurer who first described the colonial-era South America from a western scientific viewpoint.
Family fortunes
The musical aims to probe the 'emotional contradictions' that Humboldt experienced during his epic five-year expedition to the New World. Such as 'Oops, I've just spent the family fortune on my wonder-lust'. Yes, the son of a wealthy Prussian clan cleaned out the collective coffers with his expensive travel habits.
Never mind, in the process, he laid the foundations for natural sciences such as geography, field biology and meteorology; climbed higher above sea level than anyone previously (on the volcano Chimborazo in Ecuador); first noticed human-induced climate change; invented ecology and became one of the most famous persons in the world. In 1869 a crowd of 25,000 people paraded through Manhattan to mark the centenary of the birth of 'Humbi', as he was affectionately known to his fan-base.
Related: The Art of Science: Humboldt's Legacy Across Time and Place
In the next century, he faded from the world stage, though in Colombia his legacy endured thanks to his detailed descriptions and drawings of the natural environment recounted in his remarkable Narrative, and his productive encounters with Bogotá's brilliant botanist José Celestino Mutis. Today, Bogotá is home to the Instituto Humboldt, a cherished national institution dedicated to natural science investigations.
A natural choice
FOSBO had initially been tempted to write an opera dedicated to El Libertador, Simón Bolívar – it is, after all, 200 years since independence – but in the end Humboldt was the natural choice, explained the show's artistic director Pedro Ruiz last week.
While Bolívar was "still a divisive figure" in South America, Humboldt was "more about diversity," said Ruiz. This extended to his philosophy, humanism and sexuality. Humboldt was 'probably gay' according to biographers, a theme touched on in El Bosque sobre el Bosque.
It was Colombia's own exuberant natural diversity that gave rise to the show's title, taken from a phrase used by Humboldt himself to describe the amazing sight ('a forest upon a forest') of mature wax palm forest in the Cordillera Central. Unfortunately, destructive farming has today reduced these forests to a vestige of their former grandeur, noted the show's directors.
Nature's decline by human hand was something that Humboldt was one of the first to recognise and call out. He constantly referred to nature as a "living organism threatened by man", biographer Andrea Wulf has noted on the 250 years Humboldt website.
In his day – and before his time – Humboldt took a stand against environmental destruction, slavery and colonialism. His bold writings are addictive even today, explained the FOSBO'sartistic team last week. Delve into his life and work and you risked 'catching the Humbi virus,' explained Pedro Ruiz. El Bosque sobre el Bosque will be a good way to get the bug.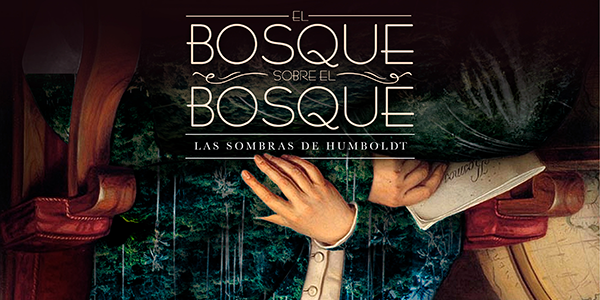 Details
El Bosque sobre el Bosque will be performed by La Fundación Orquesta Sinfónica de Bogotá on August 8 in Bogotá's Teatro Julio Mario Santo Domingo and August 17 at Teatro Jorge Eliécer Gaitan. Tickets are between $10,000 and $20,000 from Primera Fila or Tu Boleta. Shows are also planned for other cities in Colombia, more details to follow.
The Bogotá-based Instituto Humboldt will hold a historical walk, Recorrido Humboldt , on Friday, July 26, starting at 6.30am from their HQ at Sede Venado de Oro, close to the Circunvalar. The walk will end at the Casa Museo Quinta de Bolivar. To sign up, visit their website.
Visit this link for more info on Alexander von Humboldt, celebrating his 250 years.